June 6, 2015 – Lei making for Kamehameha Lei-Draping.
June 7, 2015 – Kamehameha Lei-Draping Event – For the last few years, members of the University of Hawai`i Alumni Association – National Capital Region Chapter have participated in the annual Kamehameha Lei-Draping Event during the month of June in our Nation's Capitol.  With the movement of the statute of Kamehameha the Great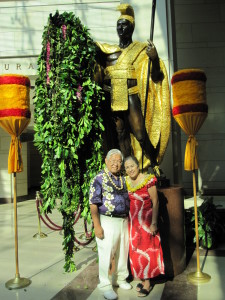 to Emancipation Hall (Visitors Center of the Capitol) five years ago, that tradition has continued with the making of a lei by UHAA-NCRC members and the placement of the lei on the statue along with leis from other Hawai`i-associated organizations. In June 2015, the UH alumni members will once again make a lei and place it on the statue of Kamehameha.  A second lei will also placed on the statue of Saint Damien in the Capitol.